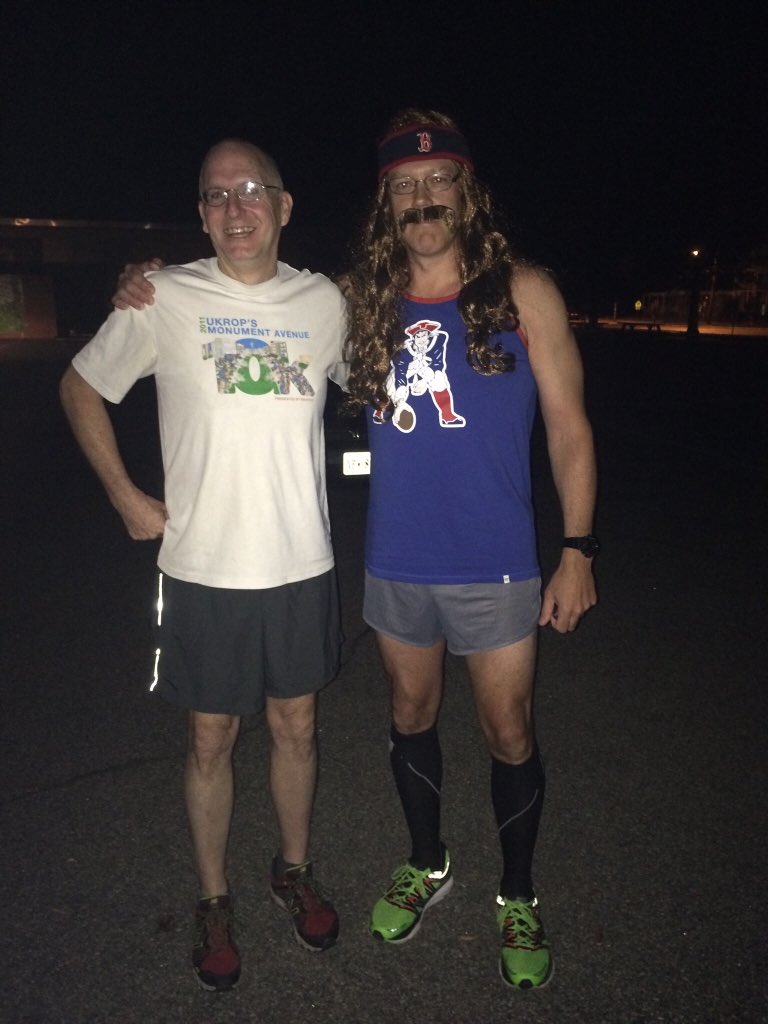 7 faithful and 1 FRNG appeared in the Gloom for a great run
THE THANG
Starting at Mary Mumford run to Woodlawn, Thompson, and the Boulevard and back to Three Chopt back around school for 4M,5M,10K loops and back to the Shovel Flag.
Moleskin
BT arrived in style, dressed as a much younger TYA. TYA went with the Older TYA costume. The PAX enjoyed the overall display of Patriots loyalty and celebration of their Thursday night victory over the Dolphins.
Swirly and YHC enjoyed a conversational pace run. We both wondered if Conspiracy should sign Loose Goose up for Gridiron for the next 20 Saturdays.
Welcome Termite! He and the Older TYA had a strong steady pace going today. Termite invited PAX members to play water polo Wednesdays and Sundays, He advised it's helpful if you know how to swim. YHC commented that if you don't, it's more like Hydro Burpees.
Off Shore went the full 10K plus, way to go! Saab Leading the long distance group in his usual laid back power strides! Sippy is continuing to work on his calf, He said give it a month before he's back to normal.
Announcements
Great Pumpkin Run Tomorrow, Just show up and Participate, Lewis Ginter Botanical Gardens Bring the Family
Punisher Shirts are available for Pre-Order
OBT and Dredd will be in Town on 11/21 for a Workout and Q-school Following the Workout.