Guys, Article is up:  http://www.richmond.com/life/health/fitness/article_3a5c846b-ef3b-5c71-b41a-a8ae3fc4f3ed.html
Fitness: F3 offers more than just workouts for men
By MARIA HOWARD Special correspondent | Posted: Saturday, July 11, 2015 10:30 pm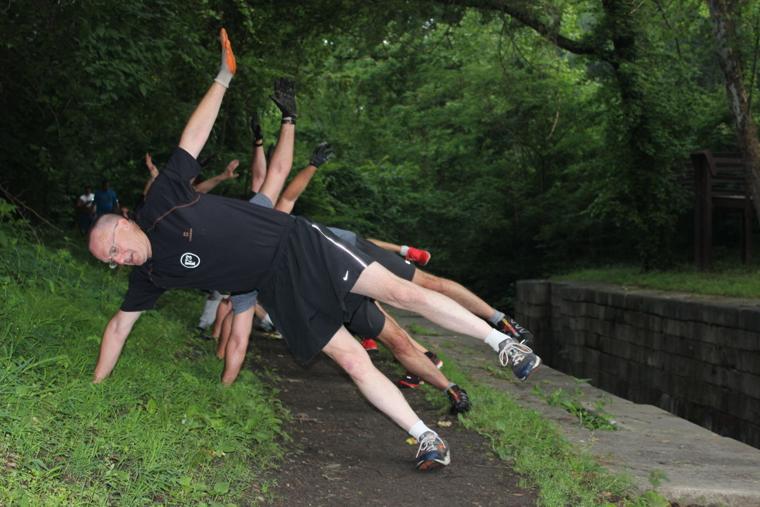 Fitness
After running trails in the woods of Byrd Park, Paul Salvucci (foreground) and other F3 participants drop for side planks near the park's historic pump house.
Matt "Sippy Cup" Hartman offered words of encouragement to the 20-plus dripping-wet guys he was leading.
"One more hill, guys. One more hill."
The group was three-fourths of the way through an hourlong boot-camp-style workout that had taken them up and down the hills of Byrd Park. In between running the root-laden trails, they had dropped for dozens of pushups, pullups and planks in every direction.
The words of encouragement came from not just Hartman, but from all the guys as they huffed and puffed through the drills.
"There you go, Honey Dew."
This is F3, where nicknames are part of the culture and the leader is just one of the guys.
F3 stands for Fitness, Fellowship and Faith. The workout group was founded in Charlotte, N.C., and started in Richmond last September with a small group of men, some of whom had friends in the Charlotte group.
Jack "Bleeder" Woodfin helped kick off F3 in Richmond.
"I wasn't working out at all," he said with a grin, still drenched from the trail runs.
This was the first time leading an F3 workout for Hartman, who joined the group after intersecting them several times one day during a random run in Byrd Park.
"I was running a loop and I kept seeing these guys," he recalled. They asked him to join in, and he's been a regular ever since.
Hartman likes to run, and was dubbed "Sippy Cup" because he always carries a large water bottle. It was no surprise that his workout took the group back in the woods for some rough-terrain running.
"Part of my goal was to introduce these guys to those trails," Hartman said.
F3 workouts are held at multiple locations throughout the Richmond area. This particular one, called "DogPile," meets at Dogwood Dell in Byrd Park at 6 a.m. every Saturday.
F3 is free and open to anyone, which prompts some interesting questions from outsiders.
"It makes people a little skeptical," said Paul Salvucci, who has been working out with F3 since it started here.
"They ask if it's some kind of cult or something."
The only payment you're expected to make is leading the group when your name comes up in the rotation.
"It's not hard to get people to lead a workout," said Salvucci, who was nicknamed "The Yankee Aggressor" because he grew up in the Northeast. The group posts online workouts for all to see, and newcomers can simply pick one that's been used before or come up with a new one.
F3 was created in Charlotte in 2011 by a group of guys who had been meeting at a park for several years to work out. Now, more than 3,000 men participate in more than 30 F3 groups throughout the Charlotte area. Once a group grows to 20 to 30 people, an F3 group is spun off so that none gets so large that people don't know one another.
There are about 80 guys participating in seven F3 workouts throughout the Richmond area. All are early-morning time slots, and all are held in any kind of weather.
"We were out here in the snow in the winter," Woodfin said.
Salvucci said the Richmond F3 groups are seeing six to seven new guys a week.
"It's very word-of-mouth-fed," he said. But it seems to work.
"People come for the workout," he said. "They stay for the fellowship."
At the end of each F3 workout, no matter how sweaty the participants might be, they gather for the "Circle of Trust" where they introduce themselves and the leader says a prayer. All faiths are welcome to the group, as are all ages.
But if you're on the young side (20s or 30s), be prepared for the group to say "hate" when you state your age. If you're in your 40s, they'll stay quiet. If you've reached the 50s or 60s, they'll say "respect."
Salvucci, who gets some "respect" every time he shows up because he's in his early 50s, said the mission of F3 is to cultivate strong community leaders. He joined because he likes the camaraderie and the team-like atmosphere. He's a former ice hockey player.
Now he understands the influence of strong values-based support, which has led to F3 expansion across the country.
"We all hold each other accountable for a lot of things in life," he said.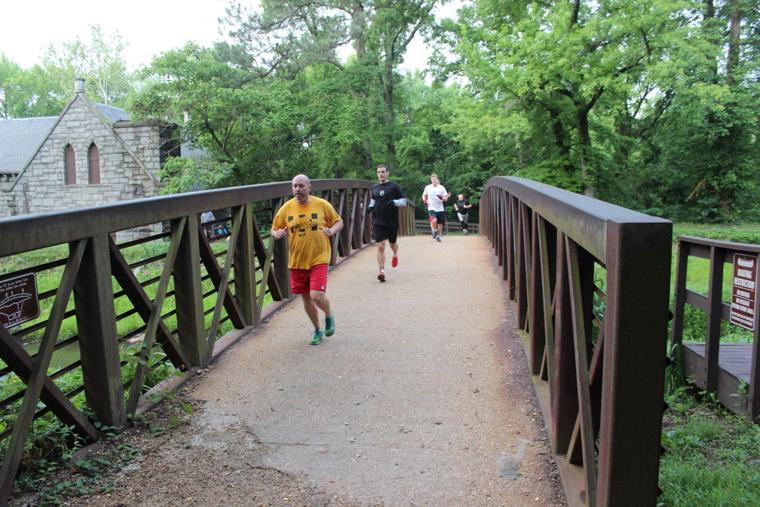 F3 participants running a bridge near the pump house in Byrd Park.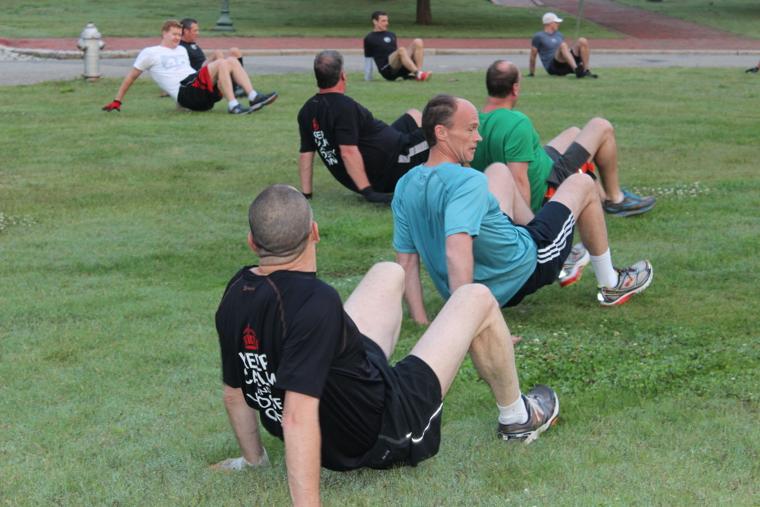 The F3 warmup included crab walking (shown here) in the grass near the Carillon.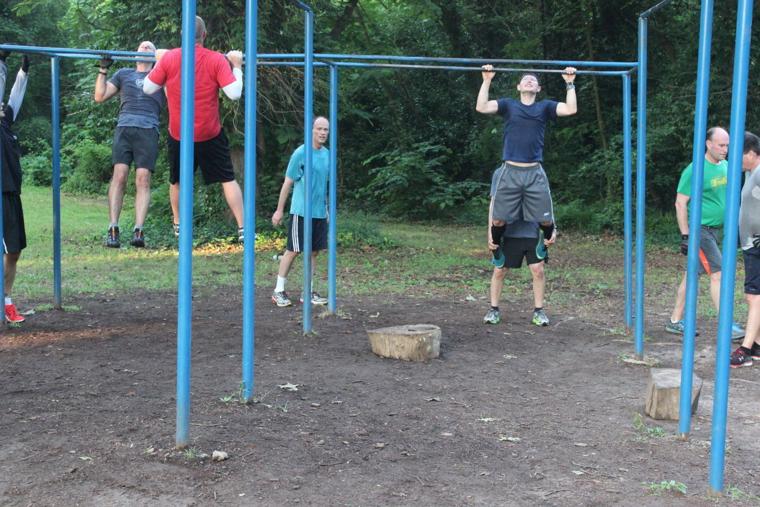 The playground area is used for pull-ups. Helpers circulated to lend a hand where needed.
More about F3
Check out f3nation.com or visit one of the local workouts, listed below.
Byrd Park at Dogwood Dell: "DogPile," Saturdays at 6 a.m.
Pouncey Tract Park: "GridIron," Saturdays at 7 a.m.
Linwood Holton Elementary School: "The Punisher," Mondays at 5:30 a.m.
Huguenot Park: "NoToll," Tuesdays at 5:30 a.m.
Swift Creek Middle School: "Source of Truth," Wednesdays at 5:30 a.m.
Mary Munford Park: "45 Minutes of Mary," Thursdays at 5:30 a.m., and "RAMM," Fridays at 5:30 a.m.